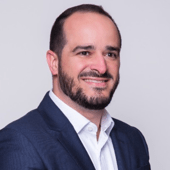 Daniel Menezes
Head of Analysis – Operations
Daniel's consultancy career began more than 18 years ago. He has supported clients across the globe to improve their operations, boosting performance and profitability. He joined Renoir in 2013 as Director of Analysis, then became regional COO for South America in 2015. 
In 2017 Daniel moved to Dubai to support our local team in the Middle East. Since 2019 he is now in charge of analysis and business reviews and is accountable for many successful implementations of our change programs.
A highly educated C-level professional with a university education in Electrical Industrial Engineering and MBA at Fundação Getúlio Vargas, FGV (Brazil), Daniel specializes in profitability improvement projects and work as an experienced project/analysis director leading organizational analyses and transformation projects in operations, maintenance, administrative, logistics, sales and strategic planning fields, within South, Central and North America, Europe, Africa and Asia.