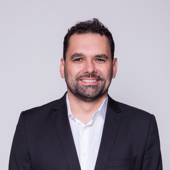 Mauro Antonelli
CEO South America – Operations
Mauro's consultancy career began more than 20 years ago. He has Extensive experience in delivering results through effective project management and leadership enablement programs. He joined Renoir in 2013 as a Project Manager, being promoted to Operations Manager for South America in 2015. 
In 2017 Mauro became COO South America supporting the Operation, Sales and Analysis Team. He is now in charge of the region and is accountable for the successful implementation of our change programs.
Graduated in Business Administration, postgraduate in Production Engineering at Mackenzie University (Brazil) and specialisation in Continuous Improvement & Lean Manufacturing Transformation, Mauro dominates management tools related to six sigma, lean techniques, OEE, supply chain management, organizational design, change management, re-engineering and cost reduction, working in Latin America and Europe.
Mauro has conducted more than 100 analysis and projects with proven track record of sustainable and measurable business performance improvements for clients working in several industries such as Construction, Social Utilities, Food & Beverage, Mining, Automotive, Healthcare, Waste Management, Transportation & Logistics, Engineering, Agriculture & Forestry, Packaging, Paper & Printing, Textiles, Telecoms, Financial Services, Power Generation and Chemicals.